Looking for Valentine's Day activities that your students will love but are more than just a craft or activity to pass the time? This Valentine's STEM Challenge (or STEAM Challenge) will keep your students engaged in brain-busting work disguised as fun!
The basic premise:
Working against a criteria/constraints list individually or in partners/groups, students will design and build the smallest container possible to house a candy assortment.
– "Confection Container" alternative: students will design and build the smallest container possible to house one or more cupcakes (keeping frosting on the cupcakes, not the box!)
– Because this can be treated as two separate challenges, two criteria/constraints lists have been provided: one for candy and another for confection (cupcake).
Check out the video preview to see what is included in this resource (skip ahead to 5:37 to see what is included in the resource):
Note: If you are in a 1:1 classroom, you may prefer the
digital format, compatible with Google Slides ™.
---
Resource includes:
NGSS aligned standards, Grades 2 – 8
Teacher Tips:

Links to my 5-part video series on getting started with STEM challenges
Materials and timing
Criteria & Constraints (including modifications to increase difficulty for older students)
Measuring results
Universal STEM Challenge Notes & How to Use Student Handouts
Post-design extension activities list
Link to a video walk-through of the challenge
Student Handouts

Criteria and Constraints list (Two editable versions in color and black & white provided)
Design Analysis (2-page regular spacing and 4-page expanded spacing for primary students included in color and B&W; editable)
Discussion Questions (in color and B&W; editable)
Extension templates

Shipping box and Delivery Truck Exercise (editable)
Process Flow Map
Math Extension
---
Sample/suggested materials for each student or group:
(Materials you'll need to do the activity are easily modified. You don't need to provide all of the following materials. Select a subset and/or add in your own ideas.)
For each student or group:
Assortment of candy (4 – 8 pieces). A variety of shapes is desired.

"Confection Container" Alternative: one or more cupcakes

Cardboard/card stock (paper plates, cereal boxes, Valentine's cards boxes, etc.)
Craft sticks (5-10)
Pipe cleaners (5 – 10)
Tape (24 in.)
Scissors
Ruler
Optional:
Valentine's decorations (lace, ribbons, hearts, etc.) or construction paper, markers, and glue
Tissue paper
Foil
Toothpicks
String
Small paper cups
Straws (5 – 10)
---
This resource is also available in paperless format and as part of the Valentine's Day and the Mega STEM Challenge bundles. Click through below: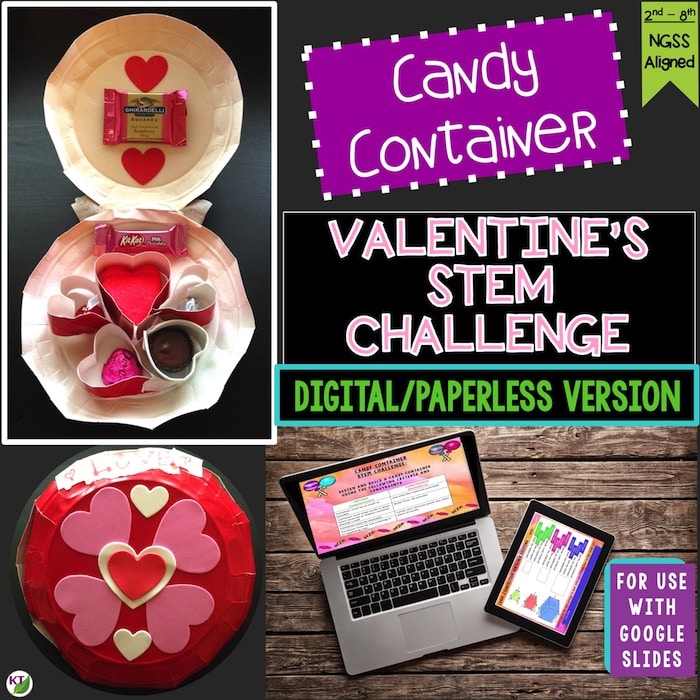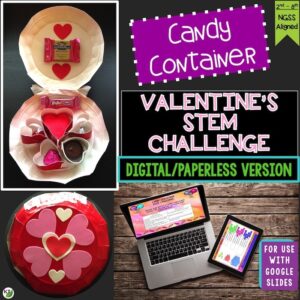 Note: Any coupon codes you received for subscribing to the email are for this site and will not work on TpT.