What if there were no books and no Internet? What if we lost the whole of human scientific knowledge and had to start over again? Are we made of the right stuff to get the job done? Are we really teaching students to think like scientists (and other STEM Pros)? Would they even know what we meant by that?
These are the questions that keep me up at night and they, along with the quotes you'll see below, were the driving force behind the STEM Ideals series. Perhaps more than any other content areas, STEM fields are about a special way of thinking.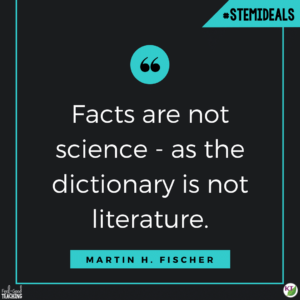 When I found this quote, I literally got goosebumps. It so perfectly said, in so few words, exactly my lament with the way science is too frequently approached. And if you're here reading this, I'm pretty confident it resonates with you too. That's why we love hands-on science! That's why we love teaching students to think and analyze and be resilient in the face of failure!
The truth is, I've been working on creating resources for several years in that vein, but I've always felt something was kind of missing. It just took me a bit to put my finger on it!
Yes! Yes! A million times, yes! I've known that I want my students to approach science in the way STEM Pros do, but I've largely asked them to absorb these special traits through osmosis. Shouldn't there be a more explicit way? A sort of character education specific to STEM?
Of course! And with that, the STEM Ideals series was born!
---
Check Out the STEM Ideals Live Launch
*Note: This is a replay. The flash freebie has already come & gone. 🙁
However, I frequently send gifts and freebies to subscribers,
so make sure you're subscribed so you don't miss any future goodness!
---
Why are STEM Ideals Important?
The ideals found throughout the series aim to identify the special way scientists, and really all STEM Pros, think and behave so we may better practice the traits ourselves – in (and hopefully beyond) STEM classes. For this series, I had three major goals:
Explicitly identify common STEM Ideals for students to explore and study.
Provide quotes and examples in a balanced way by gender and ethnicity so all students can see themselves in these professions.
Make it meaningful and practical for teachers to implement in terms of time and planning.
---
What are the Ideals & How Were they Chosen?
I researched and read up on current and legendary STEM professionals (STEM Pros), keeping a running list of traits found in their stories and in their work. Next, I reflected deeply on what I really wanted students to embody in their STEM work. That led to a list of 25 ideals, organized into five categories:
You can see the mini posters for each set at the bottom of this post. There were some ideals that didn't quite make the cut or that I weaved into others to keep things tidy. For example, "Ask Questions" was originally its own ideal, but I later determined it fit well within the descriptions for Analyze & Ask Questions, Imagine & Dream, and Think for Yourself/Be Skeptical. I've included a few posters that didn't make the cut as a bonus file in the bundle. Think something is missing? Let me know. I might be able to whip up a quick poster for a future bundle update!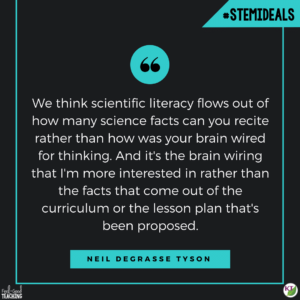 ---
Why Ideals?
A lot of thought was given to which term to use for this series: traits, habits, principles, or ideals. While all these terms are used within the resources, "Ideals" received top billing for two main reasons.
An ideal is "a principle to be aimed at." This "aiming" allows for the humanity and imperfection inherent in STEM (and life). No one can exemplify all of the ideals all of the time, and people will find themselves stronger in some areas than others. In keeping with a growth mindset viewpoint, I wanted students to see ideal behaviors/traits are things one can work on and practice, and that one can never really be done aiming for the ideal! One isn't simply born creative or not; one can exercise that muscle, so to speak. This is also why all ideals are expressed as phrases rather than nouns, e.g. Be Creative vs. Creativity. (More on that further down.)
I didn't want to exalt STEM Pros to superhuman exemplars of perfection. When students see STEM Professionals (STEM Pros) can and do fall short on occasion, it feels more natural and less absolute than the other terms would have allowed. I, short, I didn't want to set students up to assume that all those in STEM professions are paragons of virtue and set them up to be disillusioned when they hear stories of people falling short.
---
What's a STEM Pro?
The term STEM Professional (Pro) is used throughout this series. A STEM Pro can be someone who earns his/her living in a STEM field, but it doesn't have to be; a STEM Pro is anyone who embodies the ideals, even — and especially — students!
---
Why Verbs Instead of Nouns or Adjectives?
I've opted for phrases like "Be Safe" over "Safety" because the former reminds the reader to take action and strive to live up to the ideal. That said, I know others may prefer the latter, so the posters and student handouts included in the resources are editable within Google Slides.
---
What's Included in the Resources?
Check out the bundle video preview ?
Bulletin Board Headers
5 Ideals Posters per Set (full letter size & quarter size with editable text; multiple options provided for select ideals)
Teacher Pages

Background
Recommended Lesson Structure
Ways to Use this Resource
Bonus Options & Resources
STEM Ideals Descriptions (editable text)

Student Pages (editable text)

Mini Reflections (editable text)
Quote Analysis (editable text)

60 quotes from current and legendary STEM Professionals (12 per set/category)

Video Links & Response Pages based on STEM Pros & Events Related to Ideals

Check each set's preview / table of contents for specifics

Ranking Activity

Caught Being Ideal Nominations & Awards (editable text)
Sample answer keys
Access to a website with additional resources (articles, books, videos, and more) that will be updated periodically.
---
How Long Will This Take?
The good news is, adding STEM Ideals to your lessons doesn't have to take a lot of time. This series was designed to focus on a different ideal each week, for about 5 – 10 minutes a day, making it perfect for bell work, centers, and early finishers. Each day, one or more reflection activities may be assigned. Student options can easily be combined or eliminated to accommodate your schedule.
---
Where Can I Find These Sets?
Each set is linked below.
---
PIN ME, DON'T FORGET ME!