Looking for quick STEM activities you can do with no prep? How about STEM activities perfect for sub plans, centers, bell ringers and more? Or how about something to help students develop creativity and imagination … 
🥁🥁🥁🥁🥁🥁
Watch the video below for a 90-second overview of STEM Improv:
STEM Improv is a quick STEM activity to help students work on creativity, mental flexibility & the planning step of the Engineering Design Process (EDP).
Learn more about how it works here in the video, or keep reading below the video player:
STEM Improv – Quick STEM Activity you Can Do in 30 Minutes or Less!
1. Students will randomly select from three categories:
Object
Material*
Function
2. Then, students create a design plan & answer questions about their initial plan.
3. If there is time, sharing designs, discussions & extensions are optional.
With 8 options in each category, there are 336 unique combinations in each set set that will keep your students flush with designs to challenge them!
*The materials lists include some unconventional building materials (like socks!) resulting in whimsical, often hilarious, designs like the one below. 
---
A 3-minute video to introduce the activity to your students (an excerpt is shown in the video preview just below the product cover image on TpT)
Print and paperless options
The Google Slides™ version of the student handouts is editable
Randomized printable cards & video spinners for Object, Material, and Function categories
336 possible design combinations in each set! (8 options + free choice for each category)
Student handouts/slides to describe plan their designs and answer questions to think through designs
Teacher tips, notes, and troubleshooting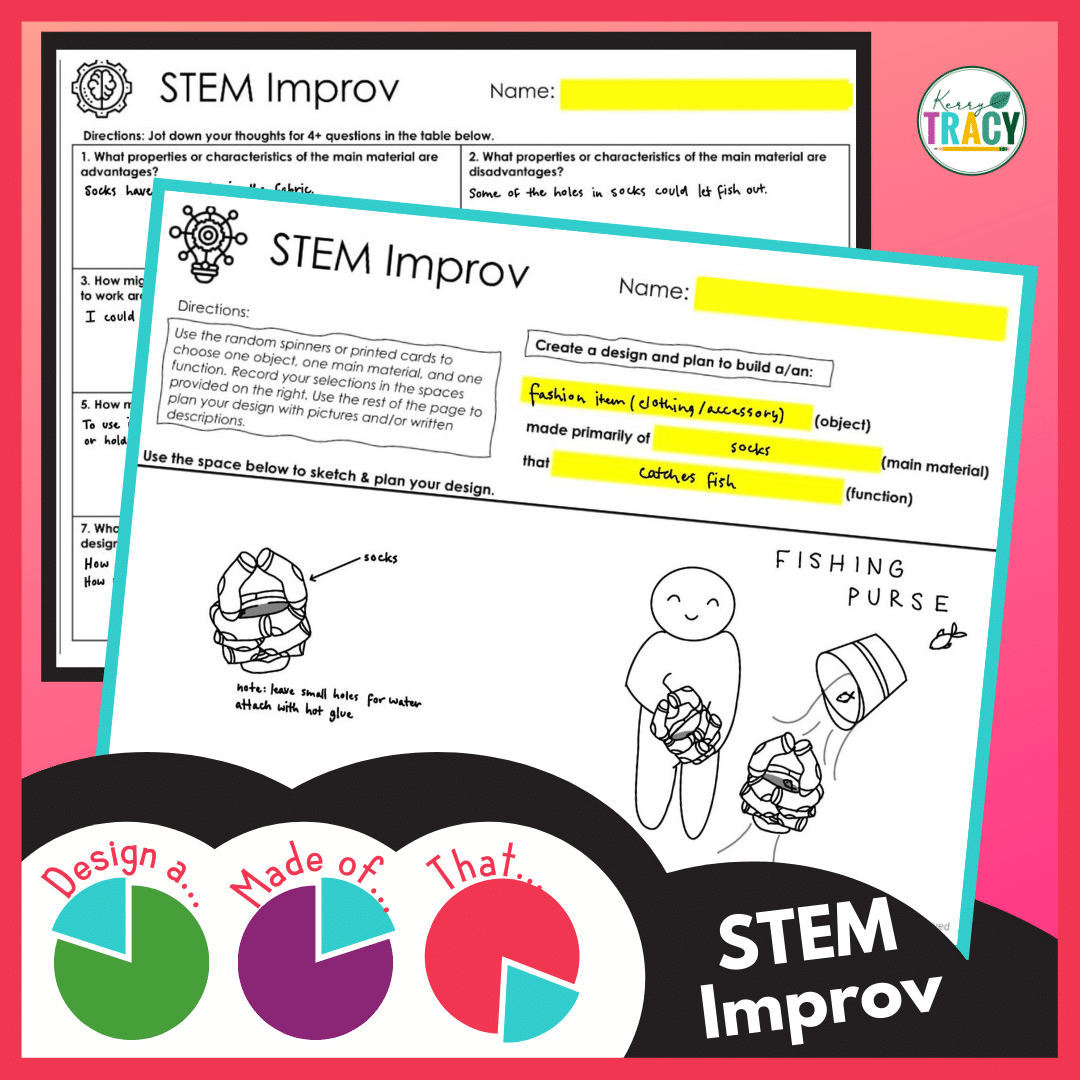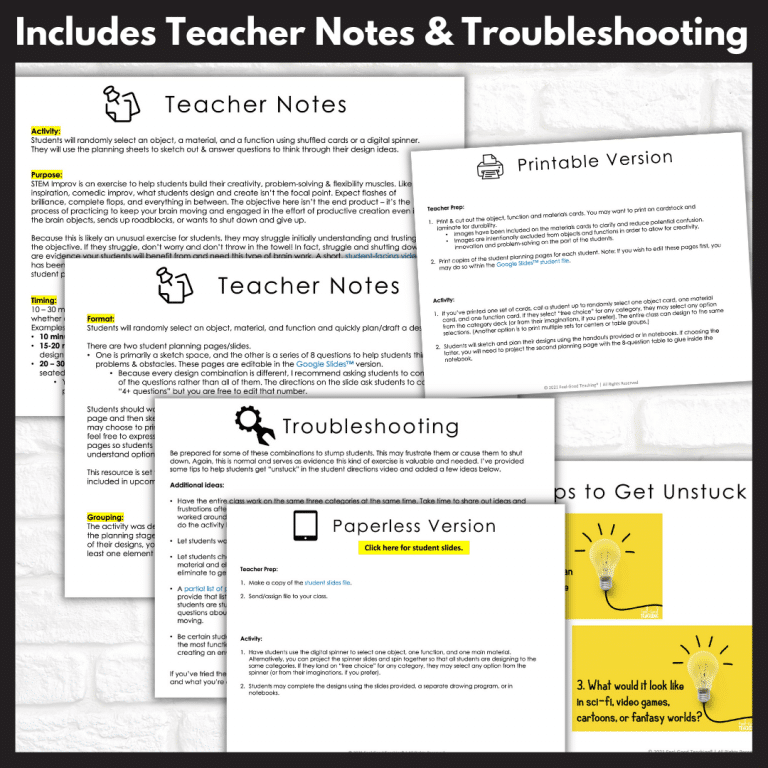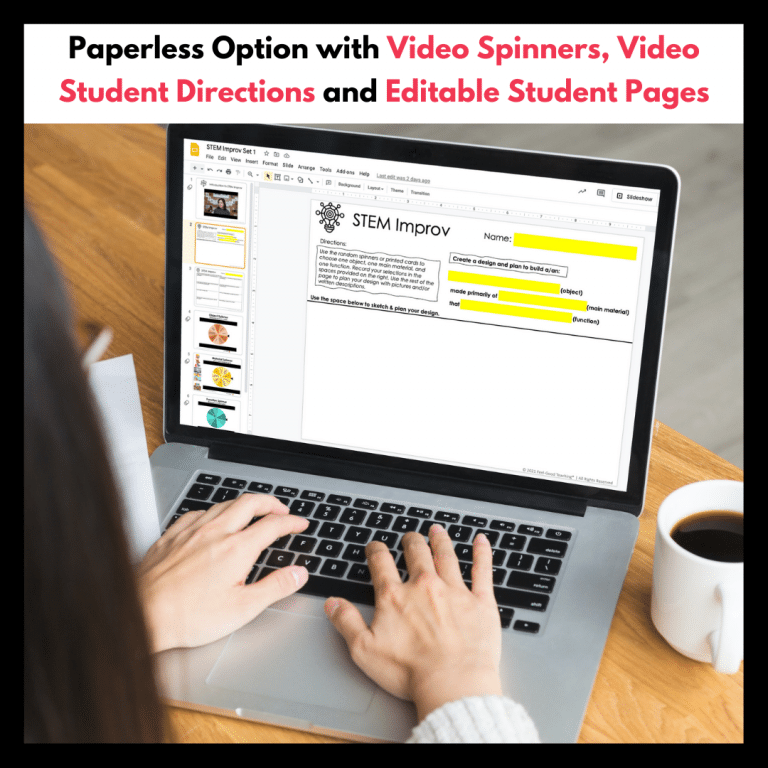 ___________________________________________________________
How to use STEM Improv:
STEM Improv is an exercise to help students build their creativity, problem-solving & flexibility muscles. Like its inspiration, comedic improv, what students design and create isn't the focal point.
Expect flashes of brilliance, complete flops, and everything in between!
The objective here isn't the end product – it's the process of practicing to keep your brain moving and engaged in the effort of productive creation even if the brain objects, sends up roadblocks, or wants to shut down and give up.
Because students are planning but not actually build prototypes for their designs (unless you choose to extend), no materials are needed.
STEM Improv is not meant to be a substitute for the EDP; it is a supplement to focus in on a narrow piece to improve skills in short class periods.
This quick STEM activity can be done in ~10-15 minute & is perfect for:
Short class periods
Bell ringers
Sub plans
Centers
Independent work
Choice boards
Must do / May do lists
___________________________________________________________
What are teachers saying about these Quick STEM Activities?
"I did this activity with my 3rd and 4th grade Gifted and Talented classes! They loved it!! It was definitely a change for them in that "all" they were doing was designing, they are accustomed to creating. But this was really good for them to focus on the design. My students who struggle with being creative and seeing outside the norm definitely struggled with this. I liked your suggestion in the material to help a student think about just 2 components and that helped them start. I know I will use this over and over again. Thank you!"
– Kerry S. (Comment left in YouTube comments)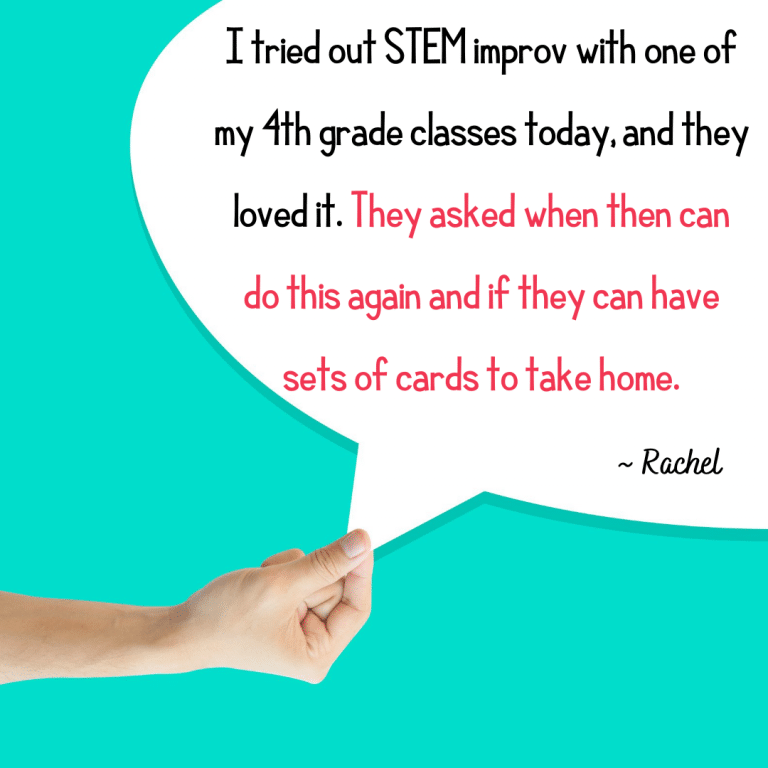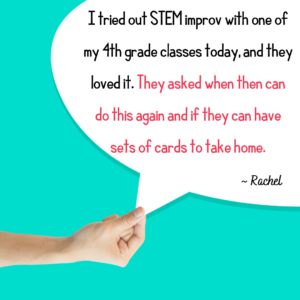 "I tried out STEM improv with one of my 4th grade classes today, and they loved it.  They asked when then can do this again and if they can have sets of cards to take home.  It was the perfect activity because I was missing about 1/3 of the students."
– Rachel F. (Comment sent via email)
___________________________________________________________
Grab Your STEM Improv!
If you have any questions, visit the Q/A tab on TpT and let me know! 🙂
Grab Set 1 for Free with Elementary STEM CON & Beyond Purchase (purchase must be made through this link)
---
Pin Me