Your STEM activity has come to an end and another class is waiting outside your door. There are zero minutes to prep. How do you buy yourself a few moments to clear the chaos and get settled?
Just as importantly — how do you do it without wasting precious minutes of class?
I've got you – STEM Bell Ringers that focus on getting students settled and in the right head space for STEM!
Better yet —
They're no prep. ⏰
They require no materials beyond paper & pencil (not even that if you have 1:1 tech) 📝
They focus a LOT on developing creativity, critical thinking and curiosity. 🎯
They're versatile — you can easily use these as STEM bell ringers, for STEM sub plans, or for STEM centers! 🙌
I'm giving you two weeks to try them out for free 🥰
Take a Peek Inside the STEM Bell-Ringer / STEM Sub Plans Freebie
Inside the freebie, you'll find two weeks of STEM Bell Ringers. Each week contains five activities + a choice board:
STEM Bell Ringer / STEM Sub Plan Activity 1: STEM Improv
You're getting the full print & paperless resource here. Students spin a wheel to randomly select an object, a material, and a function. You can see an example in the picture below: Design a desk, made of crayons, that keeps backpacks out of the way.
There are 336 possible combinations when students, so you can use this over and over again!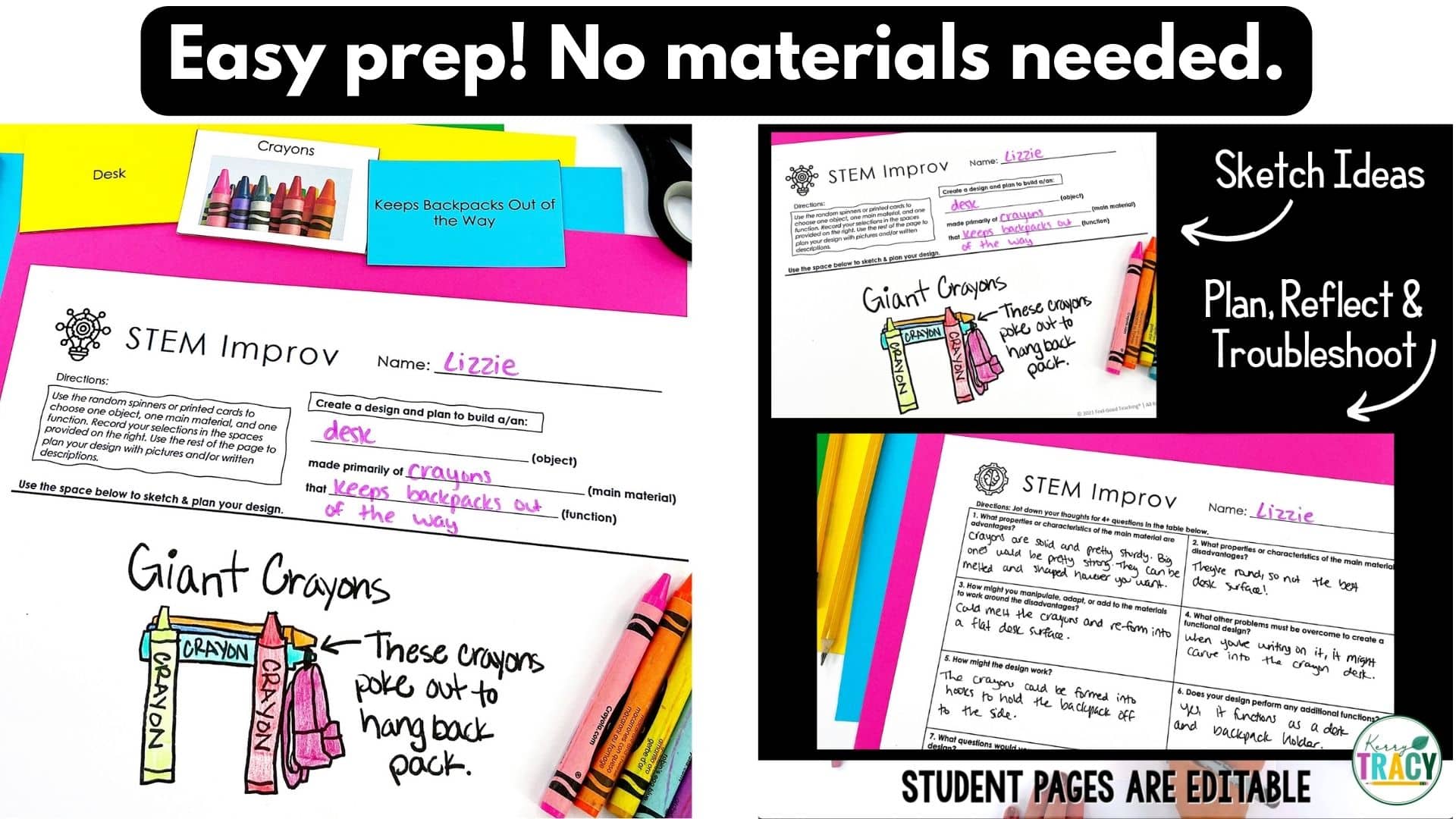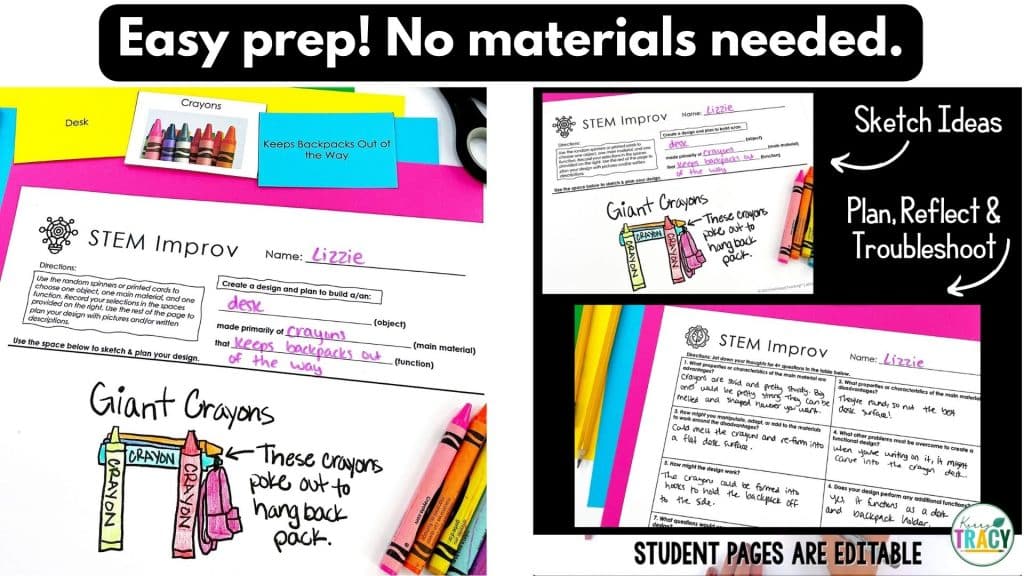 ---
STEM Bell Ringer / STEM Sub Plan Activity 2: See-Notice / Think-Wonder
See-Notice-Think-Wonder is a simple, but powerful exercise in developing observation skills, critical thinking and curiosity. This can be done with physical objects or photographs. Let students examine the image for ~3-5 minutes and let their minds wander.
On one side of the handout, students list all the things they see or notice about the image. This is the "light-lifting" side. They're making observations, noticing patterns, etc. On the think/wonder side, students engage their brains more. They make connections to things they already know and draw conclusions and list as many questions as they can. (More details are available in the video at the bottom of the post.)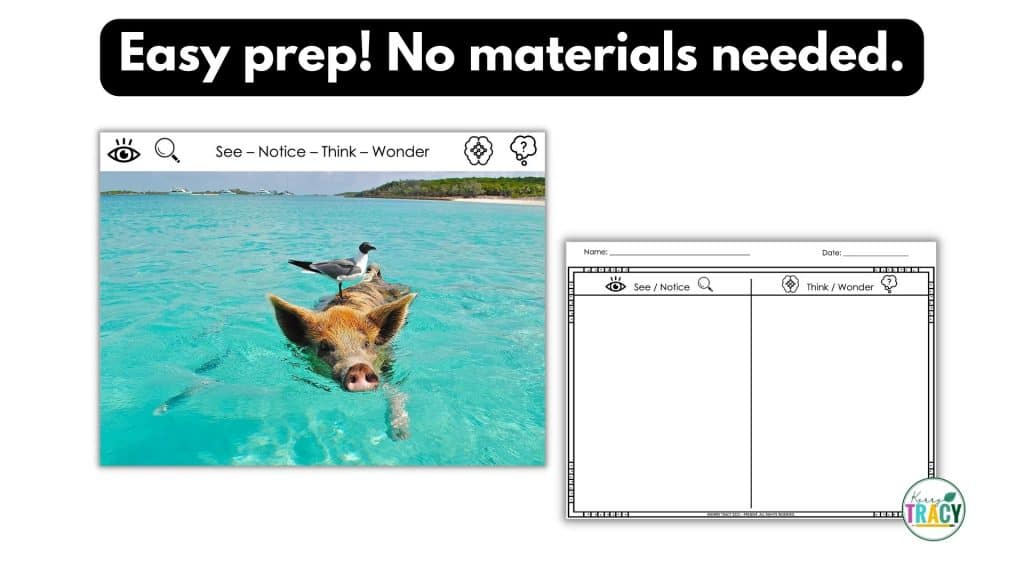 ---
STEM Bell Ringer / STEM Sub Plan Activity 3: Would You Rather STEM
I've set my Would You Rather STEM questions into three categories for the first set. (I may add other categories in the future). The three question types ask students to think of themselves as the maker in the scenario, the end-user, or to consider the importance of various objects and technologies and decide which one to give up forever. Your freebie samples include one from the maker and one from the end-user perspective.
---
STEM Bell Ringer / STEM Sub Plan Activity 4: Analyze This vs. That
In this activity, we take two everyday objects that solve roughly the same problem. Students identify the problem being solved, the strengths & weaknesses of both designs, and list any questions they have. This simple cards are set up to be completed quickly, which makes them ideal as STEM bell ringers.
However, if you want more in-depth questions or options to compare/contrast three or four designs or go deeper on analyzing one or two designs, there are two options:
Check out Real-World Design Analysis for handout templates and/or wait a smidge for the 3-4 set of Analyze This vs. That to come out. It's coming soon!
---
STEM Bell Ringer / STEM Sub Plan Activity 5: 8 Ways to Use
Grab any everyday object and ask students to come up with 8 ways to use it. You can do this with physical objects or photographs. You'll get two example slides in your freebie folder. One key to this — encourage students to vary the verb they use to stretch their minds!
---
Quick Tips:
In the video below, I go over tips on how to use these activities and a few others to enhance you 4 C's of Engineering lessons.
---
Pin Me