Looking for Valentine's Day activities that your students will love but are more than just a craft or activity to pass the time? This Valentine's STEM Challenge (or STEAM Challenge) will keep your students engaged in brain-busting work disguised as fun!
The basic premise:
Individually or in partners/groups, students will design and build a uniquely talented bouquet of flowers! This STEM challenge actually contains four challenge prompts that can be taken separately or simultaneously in groups:
– Floating Flowers
– Fluff & Flatten Flowers
– Functional Flowers
– Firmly Fixed Flowers
I will never apologize for my love of alliterative titles. ☺
Note: Although it is part of the Valentine's Day bundle, this challenge works well for spring, Easter, and Mother's Day as well.
Check out the video preview to see what is included in this resource (skip ahead to 8:02 to see what is included in the resource):
Note: If you are in a 1:1 classroom, you may prefer the
digital format, compatible with Google Slides ™.
---
Resource includes:
NGSS aligned standards, Grades 2 – 8
Teacher Tips:

Links to my 5-part video series on getting started with STEM challenges
Materials and timing
Criteria & Constraints (including modifications to increase difficulty for older students)
Measuring results
Universal STEM Challenge Notes & How to Use Student Handouts
Post-design extension activities list
Link to a video walk-through of the challenge
Student Handouts

Four Criteria & Constraints lists for four flower frenzy challenges (editable versions in color and black & white provided)
Results and Design Analysis (2-page regular spacing and 4-page expanded spacing for primary students included in color and black & white; editable)
Discussion Questions (editable)
Extension templates

Scientific Method – Design your own plant growth experiment handouts with sample answer key (editable)
Process Flow Map
Math Extension
---
Sample/suggested materials for each student or group:
(Materials you'll need to do the activity are easily modified. You don't need to provide all of the following materials. Select a subset and/or add in your own ideas.)
For each student or group:
Colored tissue paper and/or construction paper (5+ pieces)
Straws (5 – 10)
Pipe cleaners (5 – 10)
Plastic baggies (1-2)
Tape (24 in.)
Rubber bands (5 – 10)
Bucket with water (to test floating flowers)
Scissors
Ruler
Optional:
Foil (1-2 small sheets)
String/yarn
Craft sticks (5 – 10)
Cardboard (scrap pieces, equally distributed to groups)
Paperclips
Brass brads
Small cups
---
This resource is also available in paperless format and as part of the Valentine's Day and the Mega STEM Challenge bundles. Click through below: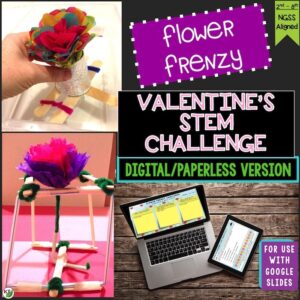 Note: Any coupon codes you received for subscribing to the email are for this site and will not work on TpT.