Looking for a fun Halloween activity that incorporates science, technology, engineering, and/or math? Halloween STEM / STEAM Challenges are collaborative, brain-busting work disguised as fun!
The basic premise:
In partners or groups, students work against a criteria and constraints list to build a low-energy machine to toss treats. The teacher chooses from one of two challenge goals: maximum launch distance and/or target-accuracy.
This challenge is a great introduction to simple machines, particularly levers!
Check out the video preview to see what is included in this resource (skip ahead to 4:07 to see what is included in the resource):
Note: If you are in a 1:1 classroom, you may prefer the
digital format, compatible with Google Slides ™.
---
Note: I received several requests to create a non-Halloween version of the student handouts to use at other times of the year or due to district rules regarding the holiday. A candy-only/non-Halloween version is now included!
---
Resource includes:
NGSS aligned standards, Grades 2 – 8
Teacher Tips:

Links to my 5-part video series on getting started with STEM challenges
Materials and timing
Criteria & Constraints (including modifications to increase difficulty for older students)
Measuring results
Universal STEM Challenge Notes & How to Use Student Handouts
Post-design extension activities list
Link to a video walk-through of the challenge
Student Handouts

Criteria and Constraints List (editable versions provided)
Results and Design Analysis Handouts (2-page regular spacing and 4-page expanded spacing for primary students included for both challenge goals: launch distance & accuracy)
Discussion Questions
Extension templates

Process Flow Map
Math Extension
---
Sample/suggested materials for each student or group:
(Materials you'll need to do the activity are easily modified. You don't need to provide all of the following materials. Select a subset and/or add in your own ideas.)
Wrapped candy

Small candies like Hershey's Kisses are easier to launch and easy to locate post-launch. You may want to provide more than one option.

Candy target/container (A printable target is included if you select the target-accuracy goal, but a Halloween-themed candy bowl is also fun!)
Clothespins (1-2)
Rubber bands (5-20 per student/group)
Popsicle sticks/tongue depressors/craft sticks/pencils/wooden rulers/small scrap wood pieces (10 – 20)
Something (or multiple things) to act as a fulcrum (markers, batteries, spice bottles, highlighters, etc.)
Tape (constrain to 24 in. or less)
Optional:
---
This resource is also available in paperless format and as part of the Halloween and the Mega STEM Challenge bundles. Click through below: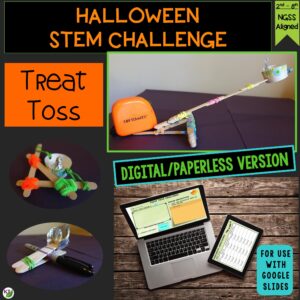 Note: Any coupon codes you received for subscribing to the email are for this site and will not work on TpT.