Looking for a fun Halloween activity that incorporates science, technology, engineering, and/or math? Halloween STEM / STEAM Challenges are collaborative, brain-busting work disguised as fun!
The basic premise:
Students work in partners or groups against a criteria and constraints list to design a device to catch as many "creatures" as possible. If you aren't allowed to do Halloween activities, you can use this to start off a unit on spiders, food chains/webs, energy pyramids and more!
Check out the video preview to see what is included in this resource (skip ahead to 4:12 to see what is included in the resource):
Note: If you are in a 1:1 classroom, you may prefer the
digital format, compatible with Google Slides ™.
---
Resource includes:
NGSS aligned standards, Grades 2 – 8
Teacher Tips:

Links to my 5-part video series on getting started with STEM challenges
Materials and timing
Criteria & Constraints (including modifications to increase difficulty for older students)
Measuring results
Universal STEM Challenge Notes & How to Use Student Handouts
Post-design extension activities list
Link to a video walk-through of the challenge
Student Handouts

Criteria and Constraints List (editable version provided)
Results and Design Analysis Handouts (2-page regular spacing and 4-page expanded spacing for primary students included)
Discussion Questions
Extension templates

Process Flow Map
Task card template (12 sample questions ranging age/skill level provided as well as editable versions and blank versions for students to create their own questions)
Task card template for answer key (note: answers are not provided as questions will be generated based on student designs.)
---
Sample/suggested materials for each student or group:
(Materials you'll need to do the activity are easily modified. You don't need to provide all of the following materials. Select a subset and/or add in your own ideas.)
Yarn, string, or twine (3 – 5 yards)
Pipe Cleaners (4 – 6)
Creatures

plastic bugs, bats, spiders, etc. (one set per class or per testing station will do)

~12 x 12 in. mat or bucket
Optional:
Additions or substitutions for string:

ribbon
cable ties
shoelaces

Coffee filters, foil, or paper (makes the challenge easier for younger students)
Tape
Mix-ins (if adding increased-difficulty criterion for some objects to pass through the creature catcher
---
This resource is also available in paperless format and as part of the Halloween and the Mega STEM Challenge bundles. Click through below: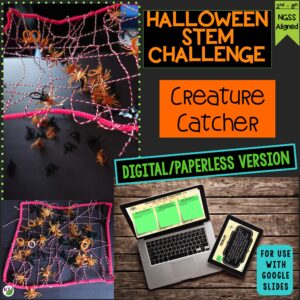 Note: Any coupon codes you received for subscribing to the email are for this site and will not work on TpT.