Whether or not you celebrate Easter, the Carrot Carriage STEM Challenge is too much brain-busting fun to pass up.
Working against a criteria & constraints list, students design a vehicle made primarily of carrots for the Easter Bunny. If you don't celebrate Easter, not to worry! Just substitute another rider: imagine Cinderella's fairy godmother ran out of pumpkins. Or you could use any random figurine on hand or even make it about shipping cargo of base ten blocks.
The only limitation is your imagination (and, of course, the materials you have on hand).
Carrot Carriage is a perfect introduction to simple machines and all kinds of measurement & geometry standards. Read & watch on for details!
How to Implement the Challenge
Check out this video walk-through of the challenge where I talk you through all the materials, criteria & constraints, measuring results, cross-curricular extensions and more. It's the fastest way to get a handle on what to expect and how to make the challenge perfectly tailored for your age group. 

---
Materials Needed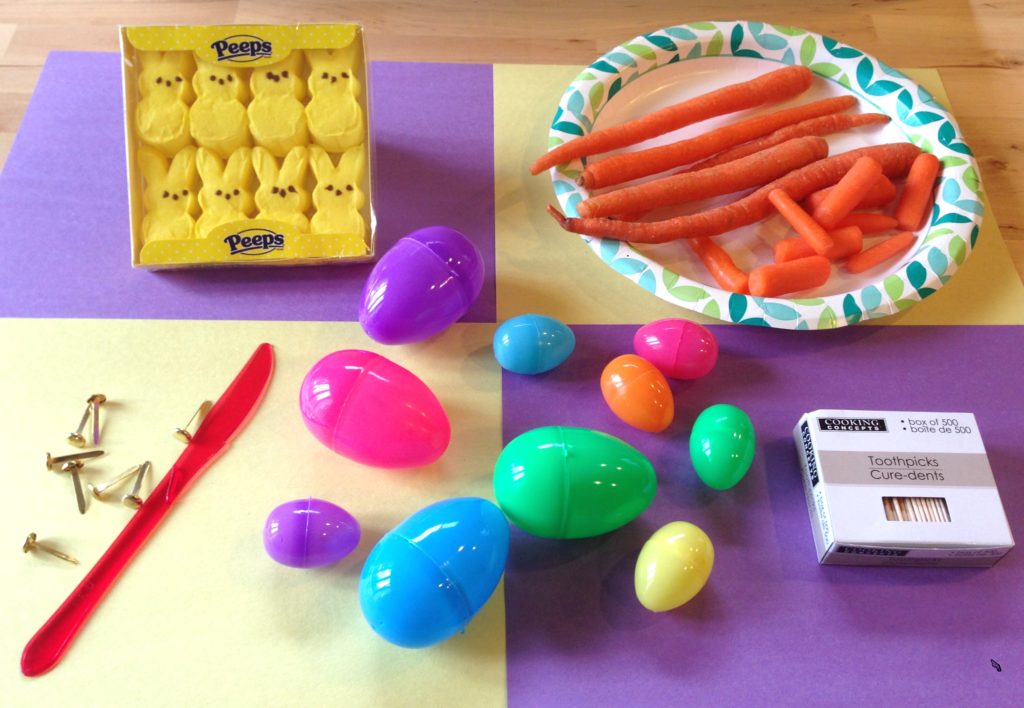 Sample/suggested materials for each student or group:
Materials you'll need to do the activity are easily modified. Amazon Affiliate links are included below.
Large carrots (4-6)
Small carrots (4 – 8)
Peeps bunnies (1)
Plastic eggs (1)
Butter knife or plastic knife (1)
Straws (1-2)
Toothpicks (10 – 20)
Brass fasteners (4 – 8)
Ramp (1)

Simple ramp will be used to test designs (e.g. textbook propped at an angle)

Ruler (1)

Used to measure travel distance of carriages

Design analysis handouts (included in resource)
Optional:
Check out all my favorite STEM Challenge Materials here.
---
Content Connections
Simple machines
Measurement

Standard & nonstandard units
Convert from customary to metric
Mass – estimate & measure

Geometry

Circumference of carrot slices
Volume of cones, cylinders, & irregular objects

Baby carrots tend to be cylinders (or close to it)
Regular carrots are conical (or close to it)

Calculate speed
*For additional cross-curricular content connections, check the video at the top of the post.
---
See the Resources
---

A Personal Note About Carrot Carriage:
When I dreamed this challenge up a few years back, I know it's not cool to say so, but I was really excited and proud. I'd never seen anything like it before. It's not your typical boat, tower, or bridge.
I thought to myself, this is original. My ideas have been copied in the past, but no one would dare copy something like this. This is truly mine!
Since then, Carrot Carriage has "inspired" copied versions out there on the internet. When I first discovered it, I was pretty devastated, but the fact is — you can't copyright ideas. As long as someone changes the product just enough (i.e. does not copy word-for-word), unless you're willing to lawyer-up, there's not much you can do.
Fun Fact / PSA: If you're ever wondering how to tell with similar resources on Teachers Pay Teachers which came first and which is likely "inspired" by, check the end of the resource urls. The numbers at the end indicate order of posting. So #1 was posted earlier than #5.
---
PIN ME