When any group of people settle in a new land like the Pilgrims did, one of the first areas of concern is to gather food. The Pumpkin Picker STEM Challenge is a fantastic way to bring a little history and real-world problem-solving to your classroom for the holiday!
What's this STEM Challenge About?
Pumpkin Picker is about harvesting pumpkins as efficiently as possible! There are lots of ways to modify the challenge to make it easier or tougher for a variety of ages!
How to Implement this STEM Challenge
It's easier for me to show you some of your options, so I recorded this short video 👇:
Materials Needed:
Materials you'll need to do the activity are easily modified. Amazon Affiliate links are included below.
Candy pumpkins or candy corn (24 – 36) (Rolos or wrapped caramels can be substituted)
Pipe cleaners (5 – 10)
Popsicle/craft sticks (10 – 15)
Plastic spoons (5 – 10)
Bowl or holding container for harvested pumpkins
Copies of pumpkin patch guide handout (included in resource) or green construction paper
Optional:
Content Connections:
Multiplication and arrays
Life in the New World
Anything related to plants (plant parts, plant needs, life cycles, photosynthesis, etc.)
For more content connections, check out the video above and the resources below.
What Are Teachers Saying About Pumpkin Picker?
"This is a fun STEM challenge that is very thought provoking. Excellent tie in to writing and math, and very detailed teacher notes and steps. That makes it so much easier to get everything set up so the students can start learning. Great product! Thank you!"
"Perfect for my little engineers!"
"I used this with my 8th grade STEM class and they had such an amazing time. I couldn't find any pumpkin candies or candy corn in stores (even though it wasn't even Thanksgiving yet) so I used caramels instead. It worked like a charm because they are about the same size and consistency. I will be using this again!"
"So many ways to enhance and stretch this fun project. My 7th graders had a blast."
"We use this resource every year before Thanksgiving break"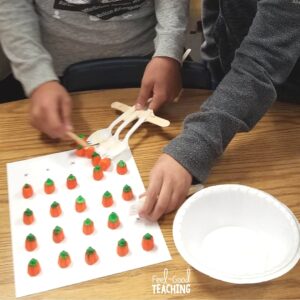 "What a fun challenge for my students! Some of them were confident in the beginning and then realized it was a bit more difficult than they thought and had to adjust their designs. I also appreciated all of the additional activities included which could allow someone to turn this into a week-long unit."
"My students loved this activity! All of their products created were very different."
---
See the Resources:
Thanksgiving resources are available on the STEM Challenge site and on Teachers Pay Teachers.
---
---
Pin Me