When you go back to school this fall, you're going to want to have your STEM game sitting pretty. Luckily, you've just stumbled on seven back-to-school STEM must haves — and five of them are free! Even if you're seeing this at another time of year, most of these are year-round must-haves!
Fill in this form to grab all the freebies at once, or pick and choose the ones you want using the links in each section below instead!
---
1) The 4 C's
The 4 C's are a guiding force in engineering: collaboration, communication, creativity, and critical thinking. These 4 C's set the foundation for all your STEM activities and challenges throughout the year, so it makes sense to devote some time & space to them in your class at the beginning of the year. These free posters & activity will get you started on the right foot!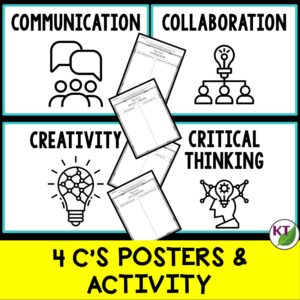 Pick up the 4 C's Posters & Activity
---
2) A Mission
Do you ever get so flippin' tired and stressed out that you forget why you ever wanted to teach in the first place? Before you go back to school this fall, take a quick minute to reflect and prioritize your goals. It's a small thing, but grounding yourself in this way can help stave off burn out.
Pick up the free classroom mission statement template.
---
3) An Ice Breaker
Confession time: I hate ice-breakers. OMG, I hate them so, so much! Nothing is worse than sitting down in your first in-service and getting the dreaded Bingo board! ?
Yet with our students, we really do want to break the ice and make our students as comfortable as possible as quickly as possible…
So … ice breakers … right?
Consider the fact that a LOT of students have done a spaghetti and marshmallow tower or Saving Sam/Fred as many times as you've done that flippin' Bingo Board activity.
And I'm not saying those are bad activities, just that you might want to freshen up the materials and/or the criteria & constraints to better match your students' age/ability/ grade-level standards. Make what's old, new again.
Or you might consider something less likely to have been done before to send the message to your students that your classroom is a place they're going to be stretched to discover new things about the world and themselves! ?
If you're looking for something a little off the beaten path, check out these Back-to-School STEM Challenges on YouTube. Resources are linked in each video description. You can also find more details on the Back-to-School STEM Challenge Hub Page.
I love all my challenges like children, but Apples A-head is probably my favorite of this bunch for its beautiful combination of STEM, PE, team-building and flat-out fun (not fluff)!
All the challenges in this set are perfect places to tie in extensions on measurement, forces, Newton's Laws of Motion, writing, and more!

---
4) STEM Materials Parent Donation Letter
If you're going to be making STEM Challenges a regular part of your class, you're going to need help getting materials. You might be surprised at what parents will donate when you ask and make it easy for them! Check out this editable parent letter to request donations. There's also a video inside to help you set up an Amazon wish list. You never know if you don't ask!
Pick up the free starter pack with editable parent donation letter.
---
5) STEM Ideals
For a loooooong time, I've been looking for some way to help my students understand what it means to think like scientists. Of course, all the hands-on labs, inquiry, and STEM Challenges are absolutely critical to achieving this goal, but I noticed it wasn't getting the job done for a lot of students.
I finally realized that I was hoping they'd latch on to what I call STEM Ideals through osmosis. I'm not sure why I thought that would work! I finally put together a series of STEM Ideals posters & activities to explicitly & intentionally study the way STEM Pros relate to their work and the world.
---
6) Universal STEM Challenge Templates
You might also be interested in these universal lesson plans, assessment rubrics, and record & reflect pages. Set the tone right away that you value process over product by using assessment pieces that align with your goals instead of undermining them!
Check out the Universal STEM Challenge Templates.
---
7) STEM Challenge PD
Need a little more inspiration? Want to make sure you're implementing STEM Challenges in a way that reaps all the benefits and isn't just surface-level fun? Have you seen the free Secrets to Successful STEM Challenges Webinar? It's free and chock-full of valuable information to help you get the most from every STEM Challenge you implement!
---
---
PIN ME